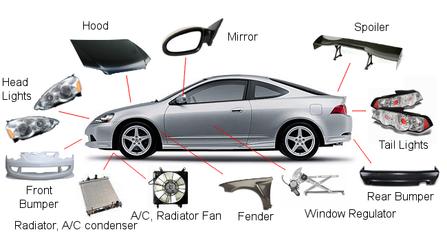 With Hondas being so popular, it should be a walk in the park to find accessories and replacement parts- whether you're jazzing up your new CR-V or need something for the vintage Civic you just gave to your kids.
Through its popularity, Honda has gained a large aftermarket that sells replacement parts and accessories for its Civics, Accords, Odysseys, Pilots, and CR-Vs--all of which are moderately priced.
Purchasing aftermarket parts is defined as "any part for a vehicle that is not sourced from the car's maker," explains Edmunds, an industry resource for automotive information. In Honda's case, much of this activity likely involves accessorizing or upgrading their vehicles. Although they're famous for reliability, replacement parts are less often needed in general.
If you ever need a replacement part for your Honda, there are plenty of capable online vendors who will gladly fulfill your order. Plus, the number of traditional brick-and-mortar auto parts stores is increasing all the time, so you can walk in and get good old-fashioned face-to-face service. Additionally, local automobile junkyards can be surprisingly good sources for common aftermarket parts.
Car and Driver discusses the most popular aftermarket accessories for Honda, which include moonroof visors, underbody spoilers, fog lights, car covers, all-season weather mats interior lighting accessories window deflectors and LED tail lights.
Amazon is a key player in the automotive parts aftermarket, and it now ranks as the largest auto parts eCommerce company in the world. However, there are many other reputable online sources to consider (even though many partner with Amazon to facilitate ordering and delivery). Be mindful that delays in delivery are not uncommon today due to chronic supply-line disruptions caused by the COVID pandemic.
Here are the top 30 sources for Honda aftermarket parts, according to VEHQ.com, a popular automotive and RVing blog. You can also purchase genuine Honda accessories and parts directly from your local dealer using Honda's online eStore.
As with anything you order off the internet, be sure to do your research on both the product and website before committing to a purchase.
Although there is mild concern among some Honda owners that using aftermarket parts could potentially void the car's warranty, this is generally not the case. Typically, a dealer can only void your warranty and deny coverage if it can prove that the aftermarket part was defective, improperly installed or led directly to a larger component failure. Simply installing aftermarket parts or accessories will not automatically void your Honda warranty in most cases.
Does Honda have aftermarket parts?
As one of the top-selling automotive brands of all time, Honda has created a sizeable aftermarket for accessories and replacement parts for its perennially popular lines of mid-priced vehicles, which currently include the Honda CR-V, Honda Civic, Honda Accord, Honda Pilot and Honda Odyssey.
Are all Honda parts made in Japan?
Honda vehicles are created in state-of-the-art manufacturing plants located in Japan, Mexico, and the United States. The United States plays a big role in Honda manufacturing with a great deal of model parts sourced within the country, primarily from the Midwestern and Southern regions.
Which is better OEM or aftermarket?
Original equipment manufacturer (OEM) parts match those that came with your car, and are of the same quality as its original parts. They're also the most expensive. Aftermarket parts are cheaper, and made by other manufacturers — often several, giving you more options.